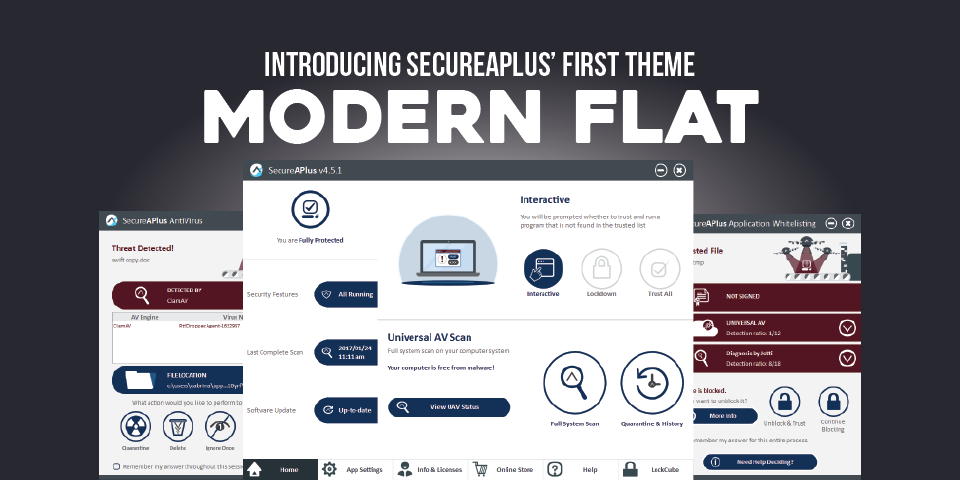 As part of its initial update for the year, the Themes feature introduces an alternate look to SecureAPlus and opens up the opportunity for new and unique designs from its users.
24 January, Singapore – In the first month of the new year and a few days leading up to the Lunar New Year, SecureAge Technology releases an update to SecureAPlus with general fixes and a new Customized Themes feature.
Since its major user interface revamp in 2016, SecureAPlus has been incorporating a striking combination of colors to both set itself apart and to help users be able to identify at a glance the security status of their PC most especially in the notifications. The unique look has garnered praise and appreciation from the SecureAPlus userbase.

As the SecureAPlus user base grew so did SecureAge Technology's enterprise client interest to incorporate the application whitelisting and multiple cloud anti-virus software. Amongst the feedback given by prospective enterprise clients is the need for a more neutral albeit traditional user interface to fit their work environments, a sentiment is also reflected by some active SecureAPlus users.
With the release of SecureAPlus 4.5.1 comes the introduction of Themes and Themes Customization. Users can now login to the SecureAPlus portal to download Themes to alter the look of the user interface.
An alternate theme called "Modern Flat" is immediately available for download. More themes will be available in the coming months by opening up the platform for user submitted themes.
According to Rudy Lim, Technical Sales Manager of SecureAge Technology, "the introduction of Themes & Customization, we not only make the look and feel of SecureAPlus at home with some of our enterprise clients but also opens up the opportunity for a lot of creativity from our general users in the hopes of appealing to their various preferences and ultimately a wider audience."
Themes switching is now available with the release of SecureAPlus 4.5.1 with the first theme, "Modern Flat", ready for free download by simply logging into the SecureAPlus Portal. End-User Theme customization and submission will be available at a later date.
About SecureAPlus
SecureAPlus is a free security software developed by SecureAge Technology that protects PCs from malware & viruses with its powerful but easy to use Application Whitelisting, and reliable detection rates of more than 10 cloud Anti-Virus engines with Universal AV. It leverages the power of the cloud allowing for low resources used and compatibility with other installed anti-virus and anti-malware applications, making it the perfect security upgrade for any Windows PC.
Media Contact
John Tunay
SecureAge Technology
pr@secureage.com
+65 6873 3710
3 Fusionopolis Way
#05-21 Symbiosis
Singapore 138633
###